Berlin - perfect place for EXPERIMENTATION, EXPLORATION AND EXPANSION

IMPROVISATION
In 1991 I moved to East Berlin, to the district of Prenzlauer Berg. I immediately came into contact with the lively scene of free IMPROVISATION and took part in many projects and activities: In a choir of improvisers, participating in the Kryptonale Festival and in the production of the CD Kryptöne, presenting silent films with live music, playing at exhibition openings, in an improvisation theatre group and playing with dancers, writers and painters.
We played in cultural centres, galleries, women's centres, squats, in inconvenient and very strange places of all kinds. I also experimented with exotic instruments, with voice and expanded my instrumentarium with installations made of scrap, with everything that sounds.
I participated in improvisation courses with Joëlle Leandre, Pauline Oliveros and AMM.




Cover CD Kryptöne, Harmonia Mundi, 1995


Strange in other sounds. Foto: Magdalena Esponda

CONTEMPORARY MUSIC
I continued to play contemporary music as a soloist or in the ConGioco Ensemble founded during my studies at the Folkwang University of Essen and played in various other contemporary music ensembles such as Düsseldorfer Sinfonietta, Ensemble Neue Musik Düsseldorf, Ensemble Go Ahead, Attacca Ensemble and from 1991 until 1995 in the Kammerensemble Neue Musik Berlin (KNM).

I participated in radio and television productions for Westdeutscher Rundfunk WDR, Sender Freies Berlin SFB, Norddeutscher Rundfunk NDR, Hessischer Rundfunk HR, Ostdeutscher Rundfunk Brandenburg ORB, Zweites Deutsches Fernsehen ZDF/arte.



Rehearsal with Dieter Schnebel, Berlin 1994


FEMINISM AND POLITICAL AND/OR HISTORICAL ISSUES
Mid 80s I was elected to the student association to the women's resort and organised events or courses by and for women and did, for example, a campaign denouncing the under-representation of women professors at the university.
With the ConGioco Ensemble we focused on the presentation of works by women composers, programming concerts exclusively by women composers and premiering many works by women composers that we had commissioned.
I collaborated and performed preferably in women's improvisation and performance groups and my compositions were mainly about women and their works (Gertrude Stein, Marieluise Fleisser, Luise Nevelson etc.). For several years, I organised large-scale events in Berlin on 8 March, Women Workers' Day.
From 1995 onwards I came into contact with the survivors of the women's concentration camp Ravensbrück and worked with and for them on many documentary and artistic projects.
While still living in Berlin I realised together with the Spanish historian Fernanda Romeu two electroacoustic works with and for the women in the resistance against Francoism.

With survivor Irmgard Konrad at the Memorial Ravensbrück, 2003




Performance Kunstschiff ANNA, Berlin. Foto: Magdalena Esponda

PERFORMANCE
In 1992 I made my first PERFORMANCE with the dancer Conny Hege based on texts by Anaïs Nin. Moving improvising in space, experimenting with objects, collaborating with dancers or actors I turned my improvisations more and more into performances. I started to dance myself, use spoken texts and develop concepts for groups of improvisers and performers.
In 1995 I founded the performance group TRIORA together with Veronika Otto - cello and Susanne Kukies - voice. We premiered my conceptual composition KOLOR-IT, a scenic and theatrical improvisation and performed it for a year in various venues.

Between 1995 and 1998 I was part of a performance duo with Magdalena Esponda. In our performances I freed myself more and more from the instruments and turned to corporal and theatrical expression. Thematically we finally focused on political issues, for example, supporting the revolutionary movement first in Albania and then in Kosovo by collaborating with activists and artists from these countries. We present our performances in theatres, cultural centres, at the Kunstschiff ANNA as well as at the National Library and Humboldt University in Berlin.

ConGioco Ensemble and Gabi Gärtner - painter, Kunstschiff ANNA, Berlin 1998. Foto: M. Esponda

COMPOSITION
Already familiar with the elaboration of concepts for improvisation or performance groups, I developed my first COMPOSITION for the ConGioco Ensemble, a stage work based on a text by Gertrude Stein, which was premiered at the cycle Unerhörte Musik at the BKA theatre, Berlin in 1996.
Several works for soloists and ensembles followed, and in 2002 I finally received a composition scholarship from the Berlin Senate for Science, Research and Culture.
In 1999 I set up an electronic studio with professional recording and editing equipment. In 2000 my first electroacoustic composition was premiered at the Nachhall Festival in Berlin.
In 2001 I produced in my studio the CD Nackt, solo-improvisations with flutes, self-published by hornisse.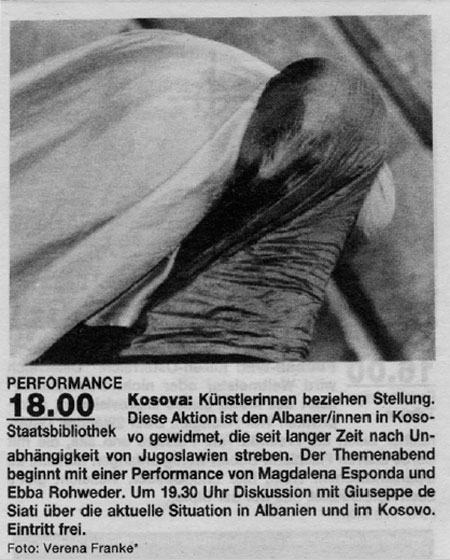 SUMMARY
In these 13 years in Berlin between 1991 and 2004, my artistic and organisational output was almost exclusively concerned with political and/or social issues:
- with the ConGioco Ensemble breaking rigid and outdated structures of classical music and denouncing the underrepresentation of female composers;
- with my performances dealing with current issues such as the struggle for independence in Albania and Kosovo or the situation in prisons in Turkey;
- with my compositions focusing on the situation of the Vietnamese in Germany;
- demanding compensation rights for the forced labourers during National Socialism;
- focusing on the women's concentration camp Ravensbrück through different projects with and for the survivors;
- emphasise the role of women in the resistance against Francoism.